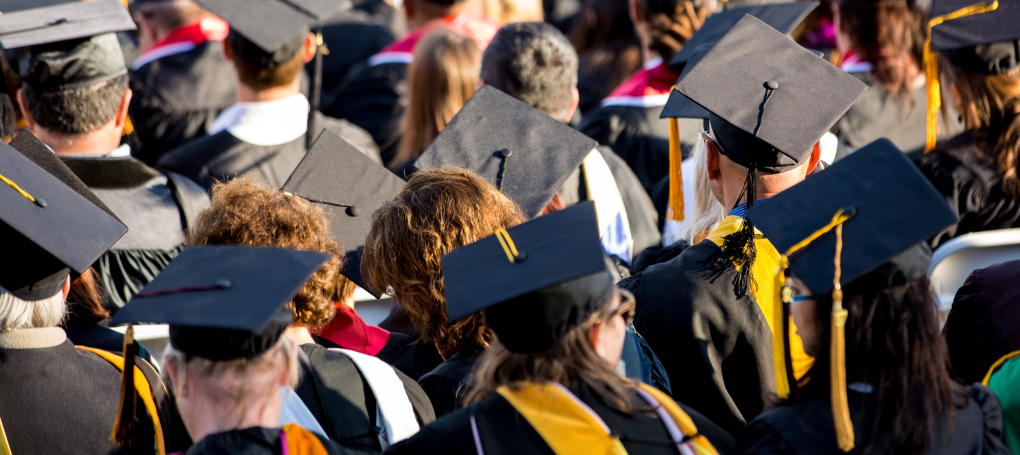 Diplomas
Spring/Summer 2021 & older diplomas: Mailing requests are being processed as campus access permits. In-person pickup is currently suspended.
Fall 2021 diplomas: Due to changes with the printing and distribution process, please do not submit mailing requests for diplomas to be earned Fall 2021 or later. Information will be sent to Pipeline email accounts by mid-March 2022. Please update your preferred mailing address in Pipeline.
In order to receive a diploma, you must first be awarded an Associate Degree, Certificate of Achievement, or Skills Competency Award (SCA). Application status for degrees and certificates can be viewed on unofficial transcripts in Pipeline. Only awarded degrees and certificates appear on official transcripts. Click here to order transcripts.

Submit the mailing request form to have your diploma shipped. You are encouraged to use a U.S. mailing address when possible. There are no tracking or rush shipment services for diplomas. If you do not submit a mailing request form, notification will be sent to your Pipeline email when diplomas are available.

Tips for completing the form online: Fill out the form in an Internet browser on a computer. Click the printer icon. Select "Save as PDF" as the print destination. Email the completed PDF to diplomas@sbcc.edu. DO NOT SUBMIT A BLANK FORM.

Click here to download the SCA Application (fillable PDF). Do not use this form for Associate Degrees or Certificates of Achievement.

Note: Skills Competency Awards do not appear on SBCC transcripts and are not included in Commencement. For applications processed in Fall 2021 and later, awards will be mailed to the address listed on the application 6-8 weeks after the end of the term. For awards already on file, use the regular diploma mailing request or pick up the award in person at Admissions & Records.

Exceptions: EMT does not require an award application. EMT awards will be distributed at the last course meeting and any mailing will be processed by the Allied Health department.


Unless otherwise notified, diplomas for degrees and certificates are available no sooner than:

Awarded for the most recent Fall Semester: The following April
Awarded for the most recent Spring Semester: The following October
Awarded for the most recent Summer Sessions: The following November

If you have not submitted the Mailing Request Form, notification will be sent to your Pipeline email when diplomas are available.

Older Diplomas: Diplomas are kept on file at A&R indefinitely. For degrees and certificates retroactively awarded for previous academic years, diplomas are generally printed within two to three weeks after they are posted to a student's SBCC transcript. To confirm that your diploma, certificate, or SCA is available, please contact Amanda Neal, SBCC Degree Analyst: diplomas@sbcc.edu.



Multiple programs of study of the same type (AA/AA-T, AS/AS-T, Certificate, or Skills Comp Award) awarded in the same semester will be printed on one diploma, up to a maximum of four associate degrees or three certificates/SCAs per diploma.


Diplomas are not available in an electronic format. Request your printed diploma and/or order a transcript.


Complete the Mailing Request Form.

All diplomas on file will be mailed together. Financial holds must be cleared before diplomas will be released.

Note: If your mailing address changes after the request form has been submitted, it is your responsibility to notify the Degree Analyst at diplomas@sbcc.edu. Changes to your address in Pipeline will not affect diploma mailing addresses.


If you have already received your original diploma and need additional copies, or if you have lost your original diploma and need a replacement, complete the Duplicate Request Form.

There is a $20 fee per duplicate/replacement diploma. Fees may be paid in person at the Cashier, via check (payable to SBCC), or charged directly to your Pipeline account after the form is received.

Submit the completed form to the Degree Analyst: diplomas@sbcc.edu.


Duplicate/replacement diplomas are generally mailed within two to three weeks after a request is received.


The Commencement ceremony is held once per year. Information is posted online and emailed to graduates and candidates during the Spring semester.

Diplomas are not distributed at Commencement. For more information about Commencement, contact the Office of Student Life.


Contact the Campus Store. Admissions & Records does not distribute diploma covers or other commencement supplies.




Certification requests for IGETC or CSU GE Breadth to be sent to four-year colleges and universities are processed by the University Transfer Center. Diplomas for Certificates of Achievement in IGETC and CSU GE Breadth are not printed. To confirm that your certificate has been awarded, check your SBCC transcript.




See the Transcripts page for information about ordering transcripts. Please do not send transcript inquiries or requests for grades to the Degree Analyst.